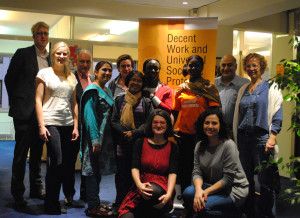 From 4 till 6 November 2014 the UNIVERSAL SOCIAL PROTECTION ADVOCACY TOUR took place. The tour was organised by the Global Coalition for Social Protection Floors, SOLIDAR, Brot für die Welt and the Friedrich-Ebert-Stiftung with the participation, among others, of the Arab NGO Network for Development (Lebanon), the Phoenix Center (Jordan), the African Platform for Social Protection (Kenya), the Trade Union Confederation (Ghana), the CIPPEC (Argentina), SEWA (India), HelpAge and the Asia Europe People Forum (The Philippines).
The Tour included dialogue with CSOs advocating for Universal Social Protection and Tax Justice as well as exchanges with EU representatives (Members of the European Parliament, Permanent Representation officials, European Economic and Social Committee (EESC) representatives, and European Commission officials) to advocate for the inclusion of universal and comprehensive social protection systems and floors in the post-2015 development framework. The dialogue has been covered on twitter through #SocialProtection4All.
The Tour highlighted the role that different EU institutions can play in the pledge for the implementation of Universal Social Protection systems.
Read the full summary and related policy recommendations here.
Photos of the tour can be found here.