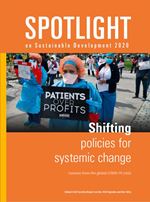 Lessons from the global COVID-19 crisis.
The COVID-19 pandemic and the national responses to it brought the world almost to a complete lockdown. All over the world, States have intervened, to various degrees, to restrict the freedoms of their citizens in order to slow down the spread of the pandemic and prevent healthcare systems from collapsing. What makes the situation even worse is that many countries were already confronted with massive social, ecological and economic problems before the crisis. These have not now disappeared. Climate change with its devastating consequences continues at a rapid pace; systemic racial and gender discrimination perpetuate inequality and injustice and undermine social cohesion; the increasing number of authoritarian regimes is a serious setback for human rights and the urgently needed socio-ecological transformation. The Spotlight Report 2020 unpacks various features and amplifiers of the COVID-19 emergency and its inter-linkages with other crises.

The GCSPF and several members of the GCSPF participated in the 2020 Report. The article "We are only as safe as the most vulnerable among us" - Strengthening public health and social protection systems in response to the COVID-19 pandemic by the GCSPF. Read the publication here and see below the contributions by members of the GCSPF.

The report was launched in a virtual event. If you missed it, you can watch the recording here.
The Spotlight Report is published by the Arab NGO Network for Development (ANND), the Center for Economic and Social Rights (CESR), Development Alternatives with Women for a New Era (DAWN), Global Policy Forum (GPF), Public Services International (PSI), Social Watch, Society for International Development (SID), and Third World Network (TWN), supported by the Friedrich Ebert Stiftung (FES).
"We are only as safe as the most vulnerable among us"
Strengthening public health and social protection systems in response to the COVID-19 pandemic
By Mira Bierbaum, Thomas Gebauer and Nicola Wiebe
Global Coalition for Social Protection Floors
The health and socioeconomic crisis caused by COVID-19 has shown in a dramatic fashion that we are only as safe as the most vulnerable among us. Despite previous legal and policy commitments and laudable progress in many countries, only between one-third and one-half of the world's population were covered by essential health services. More than 55 percent had no access to social protection at all, with devastating consequences for societies worldwide. Millions of people have already fallen into poverty, are suffering from hunger and destitution or have died. The crisis has put into sharp relief the large underinvestment in public health systems that struggle to detect, isolate and treat cases. It has also demonstrated the need for robust and comprehensive social protection systems that protect individuals against income losses in case of sickness or job loss and that reduce the depth and duration of economic downturns by means of counter-cyclical spending. Read more
Spotlights on the multiple crises: Impacts and responses on the ground
By Roberto Bissio
Social Watch
COVID-19 is a global catastrophe, but every one of the millions of infections has happened in the context of close local contact. While global mobility has spread the new coronavirus at fast speed all over the world, national capacities and policies to confront it are very different. Injustices and inequalities aggravate the impact of COVID-19 and without strong intervention from the State, the existing imbalances are reinforced. A few billionaires are getting richer while the slow-paced progress over decades to reduce global hunger and poverty is being reversed.
Civil society organizations around the world are monitoring the impact of COVID-19 and reclaiming the streets, with revitalized leadership and a rainbow of demands that combine old and new issues.
"Back to normal" is not possible nor desirable. The needed global changes are being incubated by a myriad of local hopes and actions. Read more
When the global housing crisis meets a global pandemic: a social tragedy
By Daria Cibrario
Public Services International (PSI)
Where they existed, public and social housing services have been scaled down or liquidated. Governments embracing neoliberal policies have encouraged housing market deregulation and the sale of public housing and land stocks of local governments by promoting - and in some cases subsidizing - their private purchase through tax breaks and low-interest loans. The generalized failure to address real estate speculation at a national and global level has further resulted in the sale of housing stock, leading to deeper urban gentrification, social segregation and inequality in many cities and metropolitan areas worldwide. In the aftermath of the 2008 financial crisis, Madrid sold over 1,800 social housing units to the private equity firm Blackstone for EUR 128.5 million. As of 2018, the value of those same apartments had risen by 227 percent. Read more
Local government strategies to provide emergency lockdown solutions in the COVID-19 crisis
By Daria Cibrario
Public Services International (PSI)
Although the legal frameworks underpinning housing policies and allocating resources are typically set at a national level, it is often local and regional governments which are responsible for the implementation of local housing development and manage public and social housing stocks and related services. As the global trends in urbanization widening inequality and mass displacements accelerate due to war, migration and the climate crisis, the role of local governments in housing policies is more important than ever. Yet, their resources, powers and institutional capacities are often inadequate to effectively curb real estate speculation and to uphold the right to housing in their territories. Read more
By Daniel Bertossa
Public Services International (PSI)
Around the world, frontline public service workers continue to receive praise and support for their vital role in responding to the COVID-19 crisis. Yet these underfunded public services and brutal working conditions are not inevitable. They are the result of decades of deliberate erosion of our public services through budget cuts, privatization and understaffing.
Undermining the quality and accessibility of public services has been part of a deliberate strategy to loosen the deep political commitment our communities have to protecting them. This has involved the creation and promotion of many myths: that public services are inefficient, wasteful, poor quality, harm economic growth and are protected by public servant elites for their own benefit. Read more
More than ever with COVID-19 we need strong public and social housing services
By Daria Cibrario
Public Services International (PSI)
While the promotion of market-led approaches to housing is still prevalent at a global level, some local governments are joining forces to swim against the tide.
Facing a 100 percent surge in rent prices since 2015, Berlin's local government has frozen rent prices for the next five years at June 2019 levels and repurchased 670 apartments that were to be sold to real estate holding company Deutsche Wohnen, sparing tenants disproportionate rent rises due to superfluous renovations imposed by the company. In late 2019, the public Berlin's Housing Association further remunicipalized 6,000 apartments in the Spandau and Reinickendorf districts. This makes sense when thinking of Vienna, one of the cities topping the world ranking for the quality of living, where 62 percent of the city's residents live in publicly owned or subsidized housing. Surprisingly, these are not only the lowest income earners, as housing here is seen as social good, not as a market commodity. Read more
By Kate Donald and Ignacio Saiz
Center for Economic and Social Rights (CESR)
The imperative to redistribute economic power and resources was already urgent long before the COVID-19 pandemic. However, as with so much else, the pandemic has magnified existing trends, shining a harsh spotlight on how extreme and unjust the status quo has become, and also how the systems we have in place channel wealth and power upwards, even in the midst of a global health emergency.
The relief and recovery packages being put in place by governments and international institutions are a critical means for tackling the structural inequalities exposed and perpetuated by COVID-19. In designing and implementing these packages, governments have the chance to start disrupting the status quo and breaking up the concentration of corporate and elite power at the root of these inequalities. Read more
By Roberto Bissio
Social Watch
Half a year after the eruption of the COVID-19 global pandemic, the comparison between the assessed "capability to prevent and mitigate epidemics and pandemics" and the actual impact of the new coronavirus, in terms of deaths per million inhabitants, is shocking: Among the fifteen countries better ranked in the GHSI we find many of those with the highest casualty rates, while among the ten deemed the worst prepared we find for example Algeria, which is one of fifteen countries considered "safe" and from which travel to Europe has been allowed since 1 July 2020.
Thousands of deaths could have been avoided if, instead of downplaying the risks, the perceived certainty of statistics had pointed to the dangers that even the richest countries were facing and thus press for earlier action. Read more