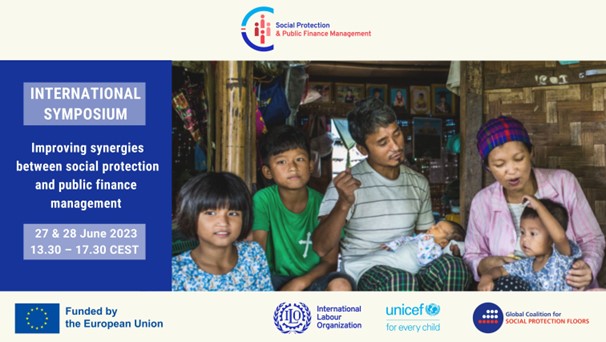 Co-hosted by the ILO, UNICEF, the Global Coalition for Social Protection Floors, and the European Union
International symposium: Improving synergies between social protection & public finance management
When: 27 & 28 June | 13.30 – 17.30 CEST
Where: Hybrid, ILO Headquarters (Geneva) and Online
Description
Launched in October 2019, the EU-funded programme on 'Improving synergies between social protection and public finance management' (SP&PFM Programme) has been supporting 24 countries in their efforts towards achieving universal social protection, ensuring they are gender-responsive, disability-inclusive and shock-responsive. The Programme has contributed to strengthen the sustainability of social protection financing through strong advocacy for increased fiscal space for social protection and improved public finance management.
The international symposium offers the chance to take stock of the results achieved, exchange country experiences and innovations, and highlight key research findings of the SP&PFM Programme. It will also look ahead to how countries can maintain their momentum towards realizing universal social protection.
Interpretation will be provided in English, French and Spanish.
Agenda and concept note – Programme brochure - For more information, please click here