The Global Coalition for Social Protection Floors, the ILO and UNICEF join forces to expand social protection for all through sustainable financing
The programme "Improving Synergies Between Social Protection and Public Finance Management" was launched by the European Union, the Global Coalition for Social Protection Floors, the International Labour Organization (ILO) and UNICEF on a virtual conference that took place on December 1st.
The multi-country programme presented an innovative partnership on social protection and public finance management – supported through funding from the European Union – that was developed in collaboration with eight partner countries including Angola, Burkina Faso, Cambodia, Ethiopia, Nepal, Paraguay, Senegal, and Uganda. It supports the development of more inclusive, robust and sustainable social protection systems that can also respond to future shocks. This new partnership provides integrated support to national ministries and public agencies on the planning, design, financing and implementation of social protection systems, programmes and delivery mechanisms. Read more
A series of video/zoom conferences and a workshop in the Latin America region with participation of experts, trade unions, feminist organizations, academics and activists with a common inspiration in social and economic justice to debate on the monitoring, advocacy at national, regional and international levels will be carried out in 2021 and 2022. These activities hope to strengthen networks at national and regional level and it is an opportunity to reinforce the work of the GCSPF on (sub)regional level, as has been proposed in our Core Team strategy meetings.
These activities will be in Spanish and open to our members and interested partners from all our networks. Please contact Ana Zeballos at anaclau@item.org.uy if you are interested in participating.
The social contract and the role of universal social security in building trust in government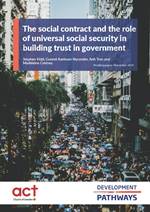 Development Pathways and Act Church of Sweden co-published the report "The social contract and the role of universal social security in building trust in government". Trust in government is the basic building block of any successful nationstate. It needs to be at the very top of the list of government priorities since, once trust is undermined, the state itself can be threatened. History tells us that a key factor in building trust is the provision of universal public services, since they can be enjoyed by everyone on an equal and impartial basis. And, if trust is to be built quickly, the best means of doing so is through universal social security.
COVID-19 has created a major crisis across all countries and has highlighted the failings of the prevailing social and economic policies in most countries in the Global South. A key question is whether COVID-19 can be the catalyst for the type of paradigm shift in social and economic policy that occurred across Western Europe following the Second World War. If this change in paradigm is to happen, it will need progressive politicians and development partners to come together and move away from the poor relief model that has dominated policy thinking across the Global South. Instead, they need to have an unremitting focus on building the type of universal social security system that transformed the social contract in Europe. Read more
The COVID-19 pandemic has shown the fragility of the global system, highlighted inequalities, and left the most vulnerable groups exposed. The crisis has affected the enjoyment of human rights, social and economic protection as well as global trade and brings hunger for change and the hope of renewal. After the initial shock, the appetite for reform is suppressed by the yearning for the comforting certainty of the familiar. This new publication and its related podcast series by the Friedrich-Ebert-Stiftung, Geneva office delineate concrete and possible avenues in different policy areas towards a world of prosperity and equality for all. The authors of the 13 think pieces have developed concrete policy recommendations. These recommendations are possible ingredients for a future in which "Building Back Better" is a success and not another failed attempt. Read more
G20 Leaders' Declaration Lacks Plans for Jobs and Social Protection
The G20 Leaders' statement released on 22 November covers many highly important topics but does not provide the urgently needed coordinated boost for jobs and social protection.
The support for equitable access to treatments and eventual vaccines is welcome, however there is no new initiative on support for developing countries and no progress on international tax reform.
Sharan Burrow, ITUC General Secretary, said: "The world is facing its greatest employment challenge in living memory, however the G20 leaders have not shown the leadership that is needed. The Declaration acknowledges the scale of the challenge without offering real solutions. Coordinated action, with support for the least wealthy countries, is needed for recovery and resilience. The lack of global ambition in this G20 Declaration is extremely disappointing and will leave countries on their own to fight the terrible economic consequences of the pandemic." Read more
Breaking Silos, Building Movements: Connecting Gender Equality and Macroeconomics
How do global economic and development structures impact the daily lives of women? Experts Barbara Adams (Global Policy Forum), Emma Bürgisser (Bretton Woods Project), Eleanor Dictaan-Bang-oa (Tebtebba), Azra Talat Sayeed (Roots for Equity) and Chantal Umuhoza (SPECTRA: Young Feminists Activism) explain macroeconomic policies and their relevance to the struggle for gender equality, particularly in the Global South. Watch the video
Call for reactions: Proposal for a Global Fund for Social Protection
The idea of a Global Fund for Social Protection starts from the finding that social protection floors are affordable, provided low-income countries receive international support in order to complement their own efforts to mobilize domestic resources.
The desirability and feasibility of a new international mechanism in support of social protection floors remains debated.
On 22-23 September 2020, Olivier De Schutter, Special Rapporteur on extreme poverty and human rights, organized jointly with the French government a High-Level Expert Meeting on this topic, which brought together 12 governments, 18 international agencies, social partners, civil society, and academic experts. The questions listed here are informed by the views expressed during that meeting. The Special Rapporteur would be grateful for answers to be provided before 15 December 2020. On the basis of the reactions received, he intends to present the Human Rights Council with a mapping of the positions adopted, and to identify ways forward.
The GCSPF submitted its contribution which is based on "A Global Financing Mechanism for Social Protection". Members of the Global Coalition have also participated, among them, ITUC, Markus Kaltenborn
The "Global Wage Report 2020-21: Wages and minimum wages in the time of COVID-19" by the International Labour Organization (ILO) has found that monthly wages fell or grew more slowly in the first six months of 2020, as a result of the COVID-19 pandemic , in two-thirds of countries for which official data was available, and that the crisis is likely to inflict massive downward pressure on wages in the near future.
The wages of women and low-paid workers have been disproportionately affected by the crisis.
Furthermore, while average wages in one-third of the countries that provided data appeared to increase, this was largely as a result of substantial numbers of lower-paid workers losing their jobs and therefore skewing the average, since they were no longer included in the data for wage-earners.
In countries where strong measures were taken to preserve employment, the effects of the crisis were felt primarily as falls in wages rather than massive job losses. Read more
Welcome to new member
The Institute of Global Homelessness (IGH) drives a global movement to end street homelessness. Our vision is a world where everyone has a home that offers security, safety, autonomy, and opportunity. Founded in 2014, IGH is the first organization to focus on homelessness as a global phenomenon with an emphasis on those who are living on the street or in emergency shelters. It is a partnership between DePaul University (Chicago, USA), and Depaul International (London, UK), which provides direct services for people experiencing homelessness  in the UK, Ireland, Ukraine, Slovakia, Croatia, USA, and France. The IGH staff and Advisory Committee work with a broad network of world-class advisors, experts, and organizations — balancing geographies, cultures, and skills.
Contact information: Lydia Stazen, Executive Director, lstazen@ighomelessness.org
https://ighomelessness.org/ - Twitter: @ighomelessness - https://www.facebook.com/ighomelessness