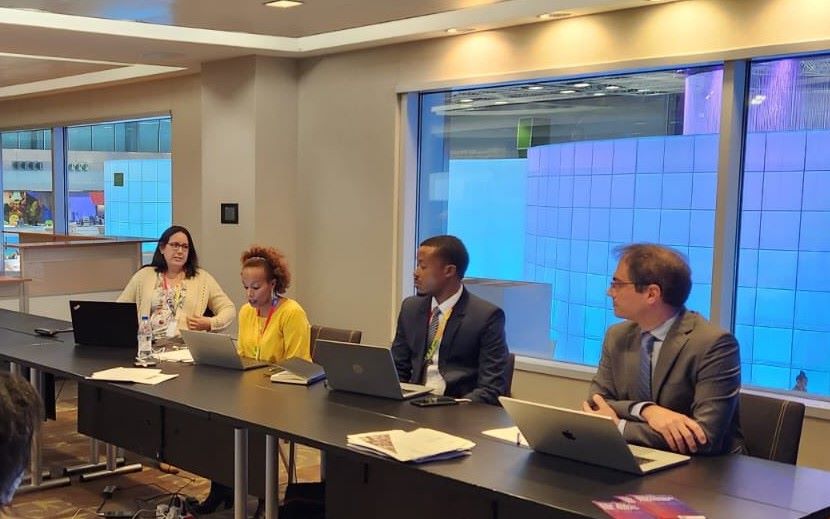 The side event "Progress through Social Protection - Current initiatives and financing at national and international level" took place on Monday, March 6th 2023 during the Civil Society Forum of the Fifth United Nations Conference on the Least Developed Countries (LDC5) that was held in Doha, Qatar.
Speakers at the event were Massimiliano La Marca (Senior Economist, International Labour Office - ILO), Elibariki Msengi (Christian Council of Tanzania), Martha Bekele (Development Initiatives, Ethiopia) and Ana Zeballos (GCSPF).
Ana Zeballos presented the work of the GCSPF. Massimiliano La Marca talked about the work of the ILO in the LDCs, particularly in the framework of the SDGs. Martha Bekele did a presentation focused on domestic and international financing, the Global Fund for Social Protection embedded in the Global Accelerator for Jobs and Social Protection. Martha also presented the new discussion paper Should Global Public Investment finance social protection? And finally, Elibariki Msengi shared with the participants the expansion of health insurance in Tanzania. The presentations were followed by a lively discussion about the situation in the different countries.
Read the programme and the invitation.
This event was co-organised by the Global Coalition for Social Protection Floors (GCSPF), Africa Platform for Social Protection (APSP), Development Initiatives, Christian Council of Tanzania, Act Church of Sweden and Brot für die Welt.