Barry Herman made an intervention on behalf of the Congregation of Our Lady of Charity of the Good Shepherd, a member of the GCSPF and also on behalf of the GCSPF at the UN's Development Cooperation Forum. His intervention (see here) was part of the interactive discussion that followed the panel presentation.
The UN's Development Cooperation Forum that met at ministerial level on 14-15 March 2023 in New York, included a session on "Building momentum for effective social protection measures." See the programme here.
Contributing to the debate on national social protection measures were Mr. Alexei Buzu, Minister of Labor and Social Protection of the Republic of Moldova; Mrs. Fatou Gueye Diane, Minister of Women, Family and Child Protection of Senegal; Ms. Marta Eugenia Esquivel Rodriguez, Executive President of the Costa Rican Social Security Fund; and Ms. Sarah Lynne S. Daway-Ducanes, Assistant Secretary, National Economic Development Authority of the Philippines.
International cooperation on social protection, in particular "circular" cooperation among developing countries, was the focus of discussion by Mr. Mariano Berro González, Executive Director of the Uruguayan Agency for International Cooperation, Mrs. Arunee Hiam, Deputy Director-General of the Thailand International Cooperation Agency; and Ambassador Paula Narváez Ojeda, the Permanent Representative of Chile to the United Nations, joined by ambassador Agustín Santos Maraver, Permanent Representative of Spain and Ms. Beate Andrees, Special Representative and Director of the International Labor Organization Office at the UN.
A recording of the discussion is available here.
Statement in the Development Cooperation Forum on behalf of
Congregation of Our Lady of Charity of the Good Shepherd
United Nations, New York, 15 March 2023
Madam President,
My name is Barry Herman, and I make this statement on behalf of the Congregation of Our Lady of Charity of the Good Shepherd, a member of the NGO Committee on Financing for Development in New York, a substantive committee of the Conference of NGOs, and on behalf of the Global Coalition for Social Protection Floors, a network of over 100 NGOs and labour organizations that advocates for enhanced social protection around the world. We all share a keen interest in this morning's discussion.
The NGO Committee and the Global Coalition regard social protection as a human right. An adequate package of social protection programs would help ameliorate the inherent risks of daily life from conception to old age. It would help empower people to contribute more to society and lead lives of dignity. However, social protection must have an adequate standing in every country's fiscal accounts.
Governments should want adequate, effective, efficient, universal and sustainable social protection systems. In many countries—rich, poor, and in between—governments are overly influenced by the rich and the companies they control. They would rather starve social protection of needed funds than accept their fiscal responsibility to society.
NGOs, such as the Congregation of Our Lady of Charity of the Good Shepherd, are hard pressed to fill the gap. In fact, they cannot marshal the resources needed. It must be a government responsibility.
How does international cooperation fit into this picture?
First, donor governments and international institutions can use their voices to strengthen the global call for adequate and universal social protection systems.
Second, they can help governments develop these systems when requested.
The development community works in this direction, but it has to do more.
Further policy and cultural reforms are warranted.
One example is the policy on social spending that the International Monetary Fund adopted in 2019. The new policy encourages IMF to engage with UN agencies as well as with the World Bank on social spending. It furthermore recognizes the value of taking into consideration the expertise of civil society in the countries its missions visit.
In fact, we see greater IMF cooperation with UN agencies and civil society. However, austerity pressures seem to still come down too hard on developing economies. We still struggle to ring fence social spending during austerity drives and then adequately expand it and the taxation it requires.
It is nonetheless good to hear the progress that countries are reporting here today.
Civil society recognizes that advancing social protection is an inevitable struggle at domestic and international levels. It is a struggle that we fully embrace.
Thank you, Madam President
The side event "Progress through Social Protection - Current initiatives and financing at national and international level" will take place on Monday, March 6th from 5 to 6:30 pm at Civil Society Forum of the Fifth United Nations Conference on the Least Developed Countries (LDC5).
Moderator: Martha Bekele, Development Initiatives
Speakers:
Social Protection: An investment we cannot afford not to make
Massimiliano La Marca, Senior Economist ILO
Tanzania – expansion of health insurance
Elibariki Msengi, Christian Council of Tanzania
Domestic and international financing: Global Fund for Social Protection embedded in the Global Accelerator for Jobs and Social Protection
Priscilla Gavi, GCSPF and Chair of the Africa Platform for Social Protection (APSP)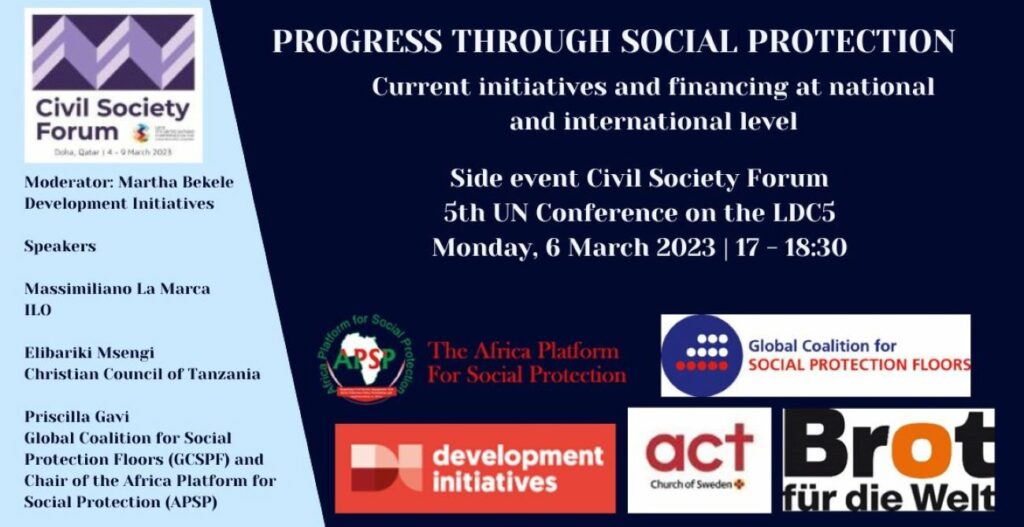 National and International Perspectives on Universal Social Protection
This side event offers civil society perspectives on national initiatives to social protection – exemplified by social health protection systems in Tanzania and Rwanda. In addition, recent international funding initiatives will be presented and discussed. A particular focus will be on the proposal for a "Global Fund for Social Protection" whose establishment is called for by both the UN Special Rapporteur on Extreme Poverty and Human Rights and by the Global Coalition for Social Protection Floors. This Fund could become an important complement to the "Global Accelerator for Jobs and Social Protection for a Just Transition" which has been initiated by the UN Secretary General.
Background
National Floors of Social Protection – i.e., the provision of access to basic health care and a minimum level of income security – is the first step towards fulfilling the human right to social security. This human right is recognized in numerous international human rights treaties and recently highlighted once again by the Protocol to the African Charter on Human and Peoples' Rights on the Rights of Citizens to Social Protection and Social Security. However, social protection floors are not only based in human rights, they are also one of the core goals of the 2030 Agenda for Sustainable Development. Evidence shows that it is an indispensable instrument in the fight against poverty (SDG 1) – and in this respect at the same time the basis for adequate health, food security and housing, especially for the most vulnerable population groups. Moreover, social protection systems serve to promote social cohesion and to provide a basis for more gender equality. Last but not least, they also make an important contribution to increase domestic demand and thus contribute to economic stabilization and resilience.
Still, most people in the world do not have access to social protection, especially in Least Developed Countries. For some countries it is very difficult – not to say impossible – to raise the necessary funds entirely from their own resources. Therefore, there have been calls for international financing mechanisms to provide the required initial funding for the establishment of cash transfer and other social protection programs.
The importance of universal social protection systems is emphasized throughout the Doha Programme for Action, including two important targets:
- Achieve a sustainable increase in coverage of nationally appropriate comprehensive and universal social protection systems and measures, including floors, for all in the least developed countries. (Para 38.)
- Ensure adequate domestic and international support to strengthen inclusive social protection systems in the least developed countries, to address current poverty and vulnerability and future shocks. (Para 202.)
This event is co-organised by the Global Coalition for Social Protection Floors (GCSPF), Africa Platform for Social Protection (APSP), Development Initiatives, Christian Council of Tanzania, Act Church of Sweden, Brot für die Welt.
Download the concept note (pdf version).
The Covid-19 pandemic and its related shocks have revealed the value of public services and social protection floors. Institutions tasked with ending poverty like the World Bank are increasingly under pressure to support vital public services and play a key role in wider universal social protection (USP) discussions. The World Bank recently released its latest commitment to social protection: A Social Protection and Jobs Compass to "chart a course towards USP," which provides guidance to Bank staff on jobs and social protection issues.
Following a limited consultation process, civil society were eager to respond to the Compass. Lena Simet of Human Rights Watch concluded that the Compass guidance note, "makes a strong commitment to USP. However, its guidance on how countries can get there is problematic."
The Bretton Woods Institutions (BWIs) have long been challenged on their claims of being pro-poor in their approach to social protection. A wealth of evidence has highlighted the flaws of the targeted approaches to social protection preferred by the BWIs, such as Conditional Cash Transfers (CCTs), which have been shown to be ineffective at reaching the poorest – as the Bank itself acknowledged – prone to corruption, and less likely to protect human rights than universal schemes.
Instead of simply dismissing public social insurance and potentially creating costly parallel structures, we call on the World Bank to support countries in adapting their social security systems to be more inclusive.
DR LAURA ALFERS, WIEGO
The International Trade Union Congress released a statement citing "considerable reservations", about the Compass as it "prioritise[s] the extension of targeted, non-contributory social assistance at the expense of social security, especially pensions." The Global Coalition for Social Protection Floors (GCSPF) also responded, echoing concerns about the Bank's 'universal' approach, citing incompatibility with the Bank's focus on privatised and voluntary schemes, and a "lack of references and alignment with human rights and international labour standards," such as social security minimum standards of the International Labour Organisation (ILO) Convention 102 and Recommendation 202. GCSPF also highlighted that both private finance and voluntary private schemes, which rely on individuals to have savings and often are inaccessible to informal workers, are considered by the Bank to be alternatives to public social security. The Bank's preference for privately schemes and targeted systems, which are methods to define eligibility for programmes between the poor, not only "fail to cover the majority of the population but also fail to reach the people living in dire situations, [it] also prevents States from developing their own social protection systems," noted a September report by civil society organisations (CSOs) Action Against Hunger, Development Pathways and Act Church of Sweden titled Can a leopard change it's spots?.
Dr Laura Alfers, of global network Women in Informal Employment: Globalizing and Organising (WIEGO) commented: "We welcome the commitment by the World Bank to Universal Social Protection. As informal workers remain largely excluded from social protection, it is encouraging that efforts to extend coverage to the 'missing majority' are central to the World Bank's new strategy. However, we disagree with the promotion of voluntary savings schemes, which are presented as central tools to expand coverage to informal workers, and as 'alternatives' rather than complements to public social security. Instead of simply dismissing public social insurance and potentially creating costly parallel structures, we call on the World Bank to support countries in adapting their social security systems to be more inclusive."
'Universal' support, with a side of austerity
The World Bank's influence over countries' social protection spaces is significant; it describes itself as the largest funder of social protection, citing a portfolio of $29.5 billion across 71 countries. The Bank commits to the Global Partnership for Universal Social Protection to Achieve the Sustainable Development Goals (USP2030), a mission to achieve Sustainable Development Goal (SDG) 1.3." Further to this, the Bank entered a global partnership with the ILO on achieving universal social protection in 2016.
USP2030 defines USP as "nationally defined system[s] of policies and programmes that provide equitable access to all people and protect them throughout their lives against poverty and risks to their livelihoods and well-being," which can consist of "cash or in-kind benefits, contributory or non-contributory schemes, and programmes to enhance human capital, productive assets, and access to jobs…benefits/support for people of working age in case of maternity, disability, work injury or for those without jobs; and pensions for all older persons." USP2030 also defines universal social protection as a human right.
UK-based CSO Development Pathways found that the BWIs not only do harm by prioritising poverty targeting, but have actively advocated for removing universal systems created by governments (see Observer Spring 2018). Both institutions tend to attach austerity-driven loan conditionalities focused on shrinking fiscal space and cutting public sector wage bills (see Observer Winter 2019), and national social protection systems are often the target of such cuts.
8 December 2022
Source: Bretton Woods Project.
Response from the Global Coalition for Social Protection Floors to the World Bank's new Strategy for Social Protection.
With this statement, the Global Coalition for Social Protection Floors (GCSPF), representing more than 120 civil society organisations and trade unions from all over the world, intends to react to the World Bank's new strategy for social protection, published under the title "Charting a Course Towards Universal Social Protection: Resilience, Equity, and Opportunity for all".
Recognising the human right to social security, as well as the central role that social protection plays in ensuring adequate standards of living, promoting inclusive and sustainable growth, enhancing resilience, and achieving the Sustainable Development Goal (SDGs), the GCSPF promotes the right of all people to social security and universal Social Protection Floors (SPF).
The GCSPF therefore welcomes the explicit commitment by the World Bank to Universal Social Protection (USP). We further appreciate the strategy's systems approach to social protection, emphasising that comprehensive and effective coverage requires expansions of interconnected social insurance, social assistance, economic inclusion programmes, and care services. The recognition that social protection is not just an effective tool to fight poverty, but also vital to help people face a wider range of challenges and vulnerabilities throughout their lives, is likewise important. The emphasis that social protection, as well as tax systems, can reduce inequality is also crucial. While ambitious plans to expand coverage are necessary to close the large coverage gaps, the World Bank's strategy rightly highlights the importance of ensuring the adequacy of benefits and the inclusion of marginalised and vulnerable groups that may face barriers to access. Given the widespread exclusion of informal workers from social protection systems, it is encouraging that efforts to extend coverage to the 'missing majority' are central to the World Bank's new strategy.
The GCSPF also agrees that social spending is a necessary and effective investment in human development, as well as inclusive and sustainable growth. We hope that the new World Bank strategy represents a step up of support from International Financial Institutions on social protection, enabling in particular low-income countries to put in place adequate and comprehensive social protection systems in line with people's rights. Increased investment in social protection is particularly important in the wake of the COVID-19 pandemic, which has decimated the incomes of the world's poorest people and left low-income countries exposed to the current social, economic and ecological 'polycrises'.
While the GCSPF appreciates the overall direction of the World Bank's new social protection strategy, we have a number of serious concerns. Primarily, we are surprised by the lack of references and alignment with human rights and international labour standards. It thus appears as though the World Bank's vision of universal social protection deviates from internationally agreed commitments and definitions, in particular social security minimum standards set out in ILO Convention 102 and Recommendation 202.
The GCSPF also disagrees with the role that private finance is accorded, as well as the promotion of voluntary private schemes, which are promoted as key mechanisms to expand coverage, in particular for informal workers, and presented as 'alternatives' rather than complements to public social security. Given the often low and volatile earnings of informal workers, and following the devastating impacts of the COVID-19 crisis, it is questionable whether individual savings accounts alone will offer much protection. The continued promotion of individualised and privatised approaches to social protection is all the more disappointing as the strategy recognises that the previous wave of pension privatisations in Latin America and Eastern Europe "did not lead to the expansion in coverage that early reformers envisioned, and the systems are also increasingly failing to deliver adequate pensions" (page 36). It is therefore crucial that the World Bank re-considers these efforts to individualise and privatise social protection and recognizes that the responsibility to realise the human right to social security cannot fall entirely on individuals but is instead a responsibility of governments. The GCSPF disagrees with the World Bank's dismissive stance towards public social insurance systems and their ability to include informal workers, which certainly requires adaptations of systems but is clearly possible, as a number of countries are showing.
Even though the strategy is framed around universal social protection, it underplays existing efforts of governments to provide universal protection. The strategy claims that governments "have played a role in increasing access to risk management tools, but only in limited ways. [...]. First, they provide social assistance to a limited portion of the population who are either income-poor or vulnerable" (page 18). This ignores the fact that numerous countries across the income spectrum have made significant progress towards USP and introduced universal child benefits and social pensions.
While rightly emphasising the importance of reaching excluded and hard-to-reach groups, the strategy fails to recognise that universal programs tend to be the most effective way to reach all and leave no one behind. More generally, the strategy lacks a clearly articulated and credible pathway for the progression from largely poverty-targeted to universal systems. Therefore, we call on the World Bank to develop, through meaningful consultation, concrete action plans at national levels to move towards universality. It is concerning that in the recent past, the World Bank has discouraged or opposed the introduction of universal programs in many contexts. Moreover, we are worried that the World Bank is blurring the conceptual distinction between means-tested and universal benefits in an effort to reconcile the discrepancy between its endorsement of USP and its continued operational focus on narrowly targeted 'safety nets'. While the strategy is less explicitly advocating for poverty-targeting than previous documents and refers to 'progressive realization' rather than "progressive universalism" the World Bank's approach still fails to live up to the principles of social protection standards. Indeed, the persistent focus on poverty-targeting is evident in the promotion of 'social registries'. While recognising significant challenges in their design and implementation, the strategy does not present convincing arguments or evidence that "dynamic inclusion" can overcome these challenges.
Despite welcoming the necessity of addressing unpaid care and domestic work, it is concerning that the World Bank appears to assume that the default provider of care services should be the private sector, with the state merely regulating or providing financing. Indeed, public care services are presented as if they were needed only in case of particular difficulties in the household. The GCSPF reiterates that care and education services should be publicly organised and accessible to all. The strategy could offer a more critical framing of the burden of unpaid domestic work, recognising the role of patriarchy, and that the impact of austerity on households is often cushioned by women absorbing both paid employment and domestic responsibilities simultaneously.
Finally, while appreciating the opportunities to engage with the World Bank during the development of the strategy, we regret that it was shared only in its final form, with no possibility to react to it. In addition, the finalised version did not take on board the comments provided by civil society in the process.
The strategy closes by stressing the importance of partnerships and collaboration between governments, donors, civil society, labour unions, and the private sector to achieve universal protection. As civil society, we intend to do our part by holding duty bearers to account, amplifying the voices of the people, and supporting the realisation of universal and rights-based social protection for all. We call on the World Bank to ensure the meaningful participation of civil society, unions and workers' organisations in the operationalisation of the strategy at all levels.
November 2022.
(General Secretary of the International Trade Union Confederation, ITUC)
(UN Special Rapporteur on extreme poverty and human rights)
(Executive Director of the Global Initiative for Economic, Social and Cultural Rights)
(Evangelical Lutheran Church in Tanzania – ELCT)
(Project Officer, Church's Auxiliary for Social Action)
(Director, the Africa Platform for Social Protection – APSP) guide you through different aspects of this new Global Fund explaining why we need the Fund and how it would work.